Badges
Badge is an award in the form of a badge designed to provide information on successful completion. The badge contains a title, a description and a picture that allows you to identify the task that has been completed.
To create a badge, in the Task management menu select Badges.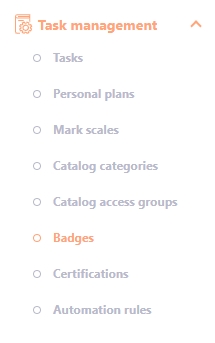 Here you can see a table with all the badges created earlier.

Table fields:
"Title" - displays the names of the badges and their image.
"Date of change"- the date when the badge was last modified (created or edited) is displayed.
"Published" - the publication status of the badge is displayed.
"Reset filter" - clears field values in filters.
"Add" - switch to the badge creation page.
"Edit" - button for badge editing.
"Remove" - button for badge deletion.
If you remove the badge from the list, it will be automatically removed from all users who received it for completing tasks earlier.
Create badge #
To create a badge, you need to fill in the fields:
"Title" - mandatory field, title of the badge.
"Description" - badge description.
"Upload file" - button to load a badge image.
"Cancel" - canceling the badge saving.
"Save" - badge saving.
"Back" - back to the badges list page.
"Publish" - checkbox that displays the publication of the badge.

After creating a badge, it will be displayed in the badge table.
Способ получения Бейджа #
Бейдж можно получить за:
1) Успешное прохождения Задания
2) Назначиться Администратором вручную.
Получение Бейджа после успешного прохождения Задания
За успешное выполнение учебных Заданий пользователи Collaborator могут получать награды, в виде значков — бейджи.
Все, полученные пользователем бейджи, собираются в его профиле, таким образом, подчеркивая достижения в обучении.
You can attach the badge to the task on the page of creating/editing the task.

After selecting a badge from the drop-down list, its image will be displayed nearby.

If a badge has been added to the task, it will be displayed on the start page before the task starts.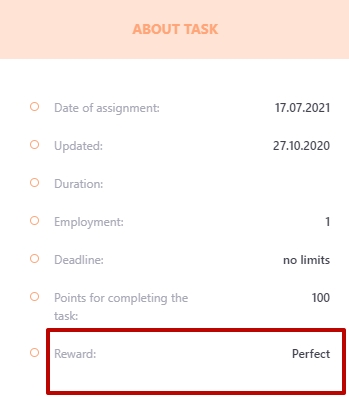 And if the user successfully completes the task, the user will receive an attached badge.
If after the user has completed the task and received the badge, unassign it - the badge will still remain in the list of rewards for this user.
Назначение Бейджа Администратором вручную
Бывают кейсы, когда нужно отметить сотрудника наградой не только за учебную деятельность на портале, но и за другие заслуги. Например, за участие в корпоративном мероприятии или конференции, за высокие достижения в работе и прочее. Администратор может вручную назначить Бейдж Пользователю.
Назначение Бейджей Пользователям работает по аналогии с назначением Заданий.
Для того чтобы назначить Бейдж вручную в Таблице Бейджи нажмите на кнопку Назначить возле нужного Бейджа.

В таблице Назначение пользователей галочками выберите Пользователей. Для удобства можно воспользоваться фильтрами.
После этого бейдж автоматически появится в профиле выбранных пользователей.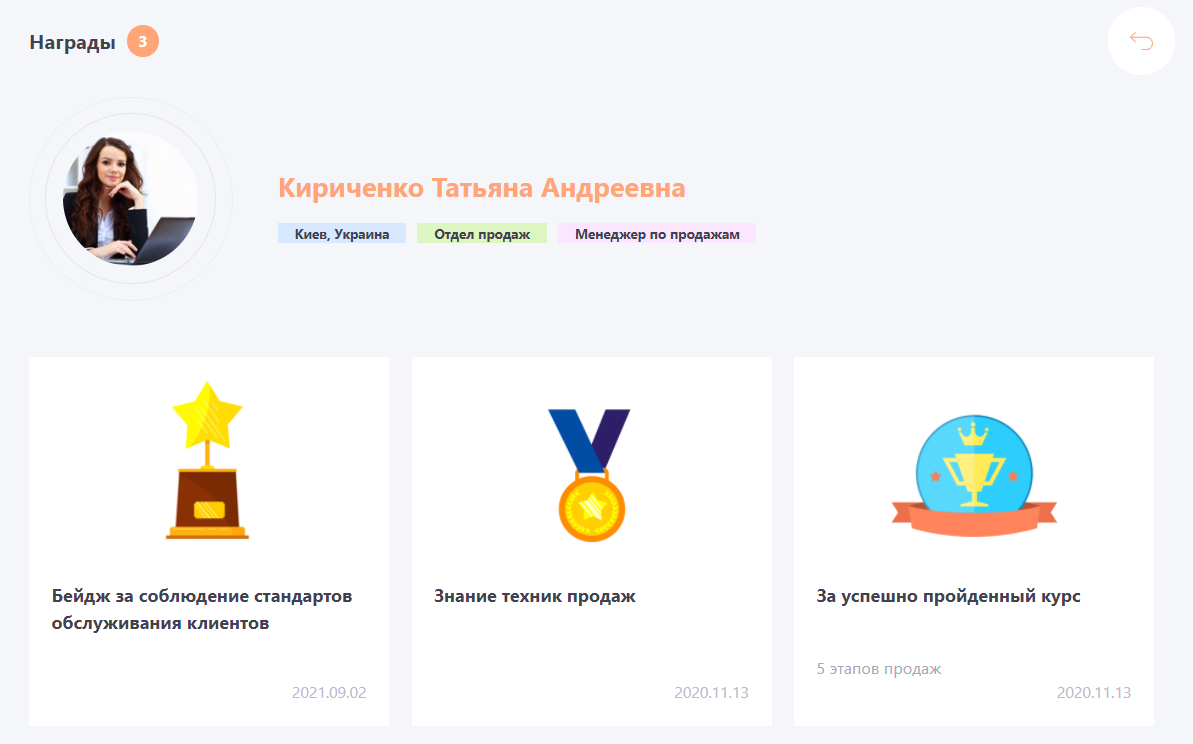 Если Пользователю снять Бейдж, который был ранее назанчен ему вручнюю - то Бейдж исчезнет из списка Наград даного Пользователя.
View badges #
Viewing badges is available in the user's profile in the Awards block. When you go to the user's profile, the last 5 badges are displayed.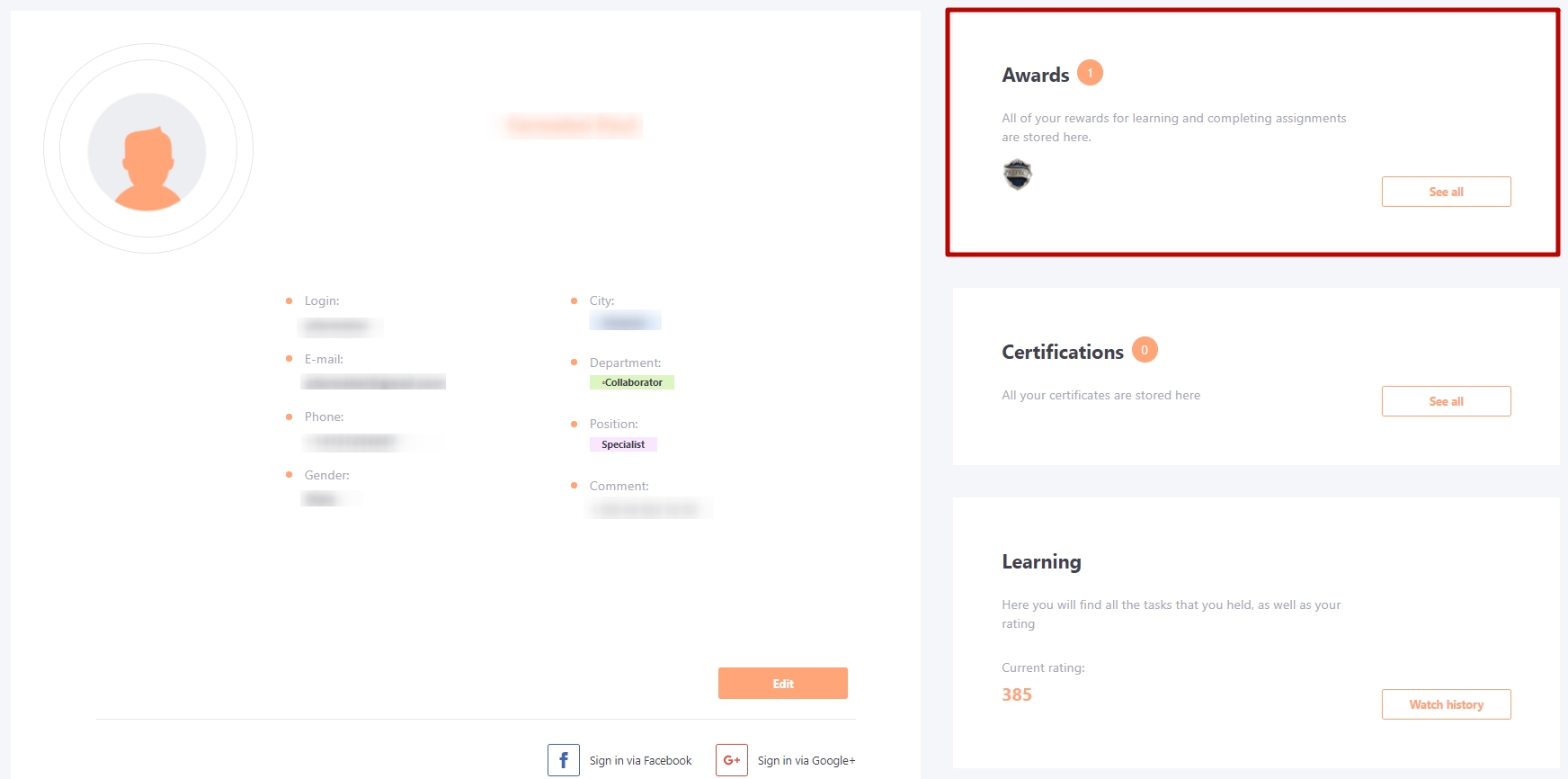 If the user has more than 5 badges, an icon appears with the number of badges the user has in addition. To go to the list of all the received badges, you need to click "See all" button.
On the Awards page, all the badges that were received by the user are displayed as a tile. Along with the image of the badge, its name, the name of the task for which the badge was received and the date of receipt of the badge are also displayed.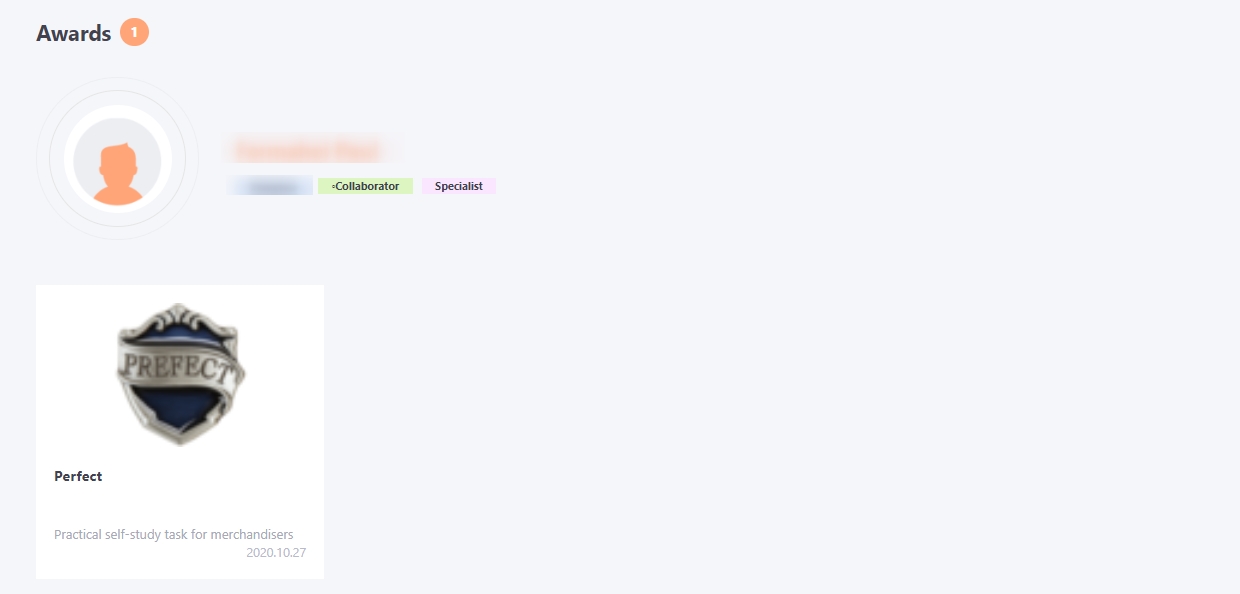 In addition, badges can be seen in the contacts.