Notification bar
In the portal header, next to the user menu, the icon of transition to Notification bar is displayed.

Notification bar is a dialog box with a list of new messages from the system.
The following notifications appear in the notification bar:
resource updates in the knowledge base;
reminders and birthday greetings;
replies to comments;
received thanks;
event notifications.
If new notifications have appeared since the last view, a colored marker appears near the "bell" icon.
The drop-down list displays 5 new notifications, you can go to view all notifications by clicking on the All notifications button: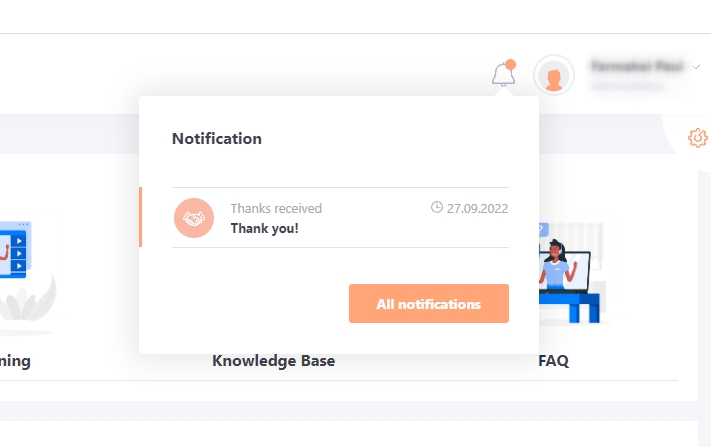 Clicking on a new notification switches to it, and the message disappears from the new notifications dialog box:

If the user has viewed all new notifications, the marker about them is not displayed and the dialog box will be empty: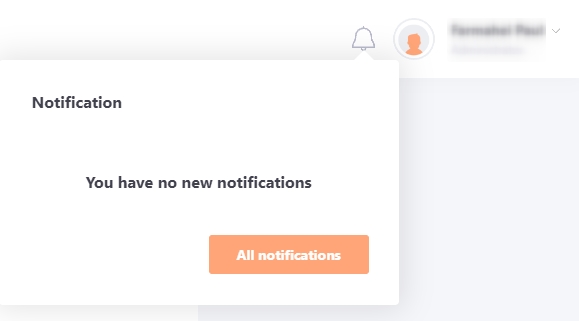 ---
The Notifications page displays all received user notifications for the last 3 months (older messages are deleted). All notifications are divided into blocks:
Knowledge base
Birthdays
Comments
Thanks
Events
By default, the "All notifications" block opens:

You can interact with all notifications:
Knowledge base - by clicking on the message, you go to this resource in the knowledge base.
Birthdays - by clicking on a message with a reminder of birthdays, you go to the "Birthdays" page, with a filter by this date.
Comments - by clicking on the message you will be redirected to the page with this comment.
Thanks - by clicking on the message, you go to the "Contacts" page with a filter by the user who sent the thanks.
Events - a click on the message opens a modal window with the event.