Comments
In LMS Collaborator, users can comment:
learning tasks during the course;
resources in the knowledge base;
news.
To do this, users should have the permission to leave and view comments.
The maximum size of one comment is 2000 characters.
---
Comment moderation
All comments in the system are collected in the Comments table in the Comments checking and moderation menu.
Administrators with the permission for the role edit and remove all comments have access to the Answer checking and moderation - Comments menu.
The Comments table appears as follows:

The table displays a list of all comments from tasks, knowledge base, and news.
You can use the following filters to find the comments you need:
(1) - by the task title, knowledge base resource, or news item;
(2) - by the name of the commenter;
(3) - by the date of the comment creation;
(4) - by the text of the comment;
(5) - filter by comment source (tasks, knowledge base, news)
Filter for selecting the type of Comment source (5) appears as follows: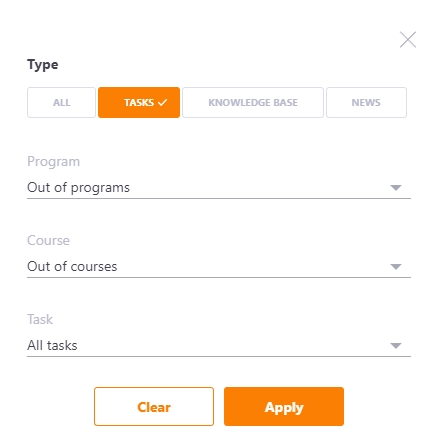 The following options are also available in the Comments table:
Reset filter (6)
Switch to the Knowledge Base task or resource (7) where the comment was left
Remove the comment (8)
Mark Comment as Read (9) (unread comments are highlighted in color)
All comments from moderators, as well as comments from other users to which the moderator has responded, are added to the general list with the "Read" mark.
If there are several users in the system with Moderator rights, each of these users will have their own list of read and unread comments
---
Comments in tasks
For all learning tasks in the system, on the task creation/editing page, there is an option - Allow commenting.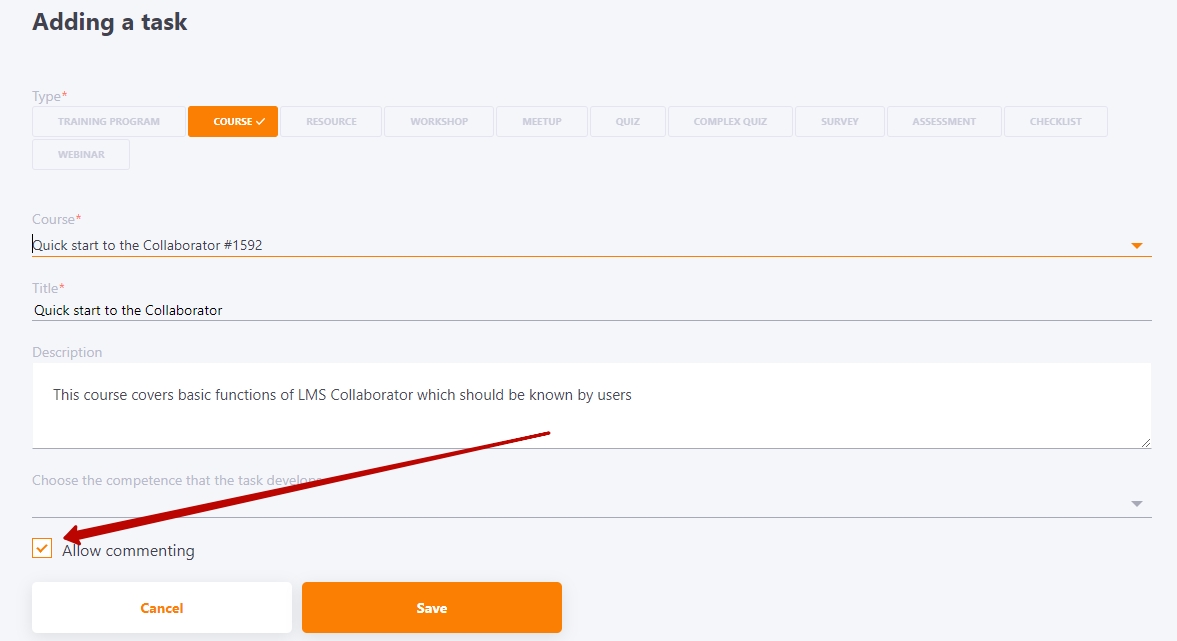 Users of the Collaborator system can leave comments on assigned tasks. This way, you can share your opinion on a training course, reading material, video, or quiz.
In the comment field (1) you can enter text and add emoji (2), to send a comment, press Enter or the Send button (the button is inactive while there is no text in the comment field). To move the text to a new line, press Shift + Enter.

The user can Edit (1) or Remove (2) their Comment within 5 minutes after creation. These buttons appear when you hover over a comment that has been created.
You can also click Like (3) or Reply (4).

---
Notification of comments in tasks
If a user's comment has been replied to, they receive a notification via email and/or messenger.

On the Security and Notifications page, you can disable the Recieve notifications about comments on tasks setting, so no email notifications will be sent.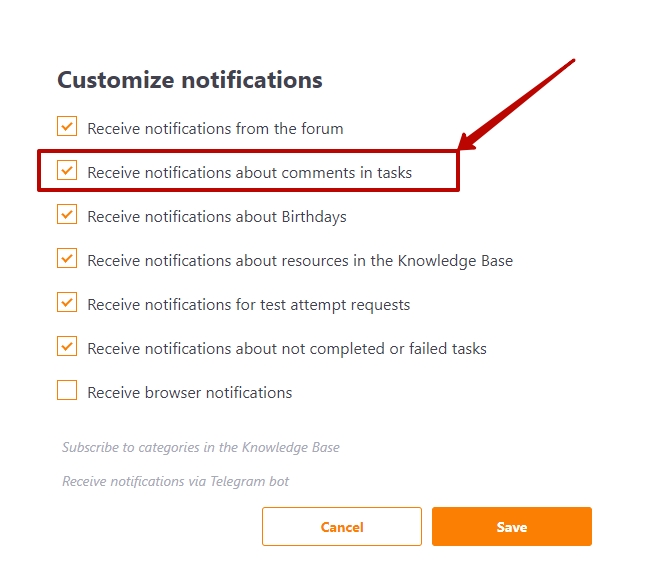 All administrators with the right to edit and remove all comments receive a notification in the browser (if they are currently logged in to the portal) about a new comment with a link to the Moderation - Comments menu.