Assignment to the meetup
To assign users you need to enter the task list and press the Assign button for the task.

This will open the User Assigning page, which shows all users in the system.
You can assign users to a task:
1.one at a time using the following buttons:
(1) - Assign button - to assign a user to a task
(2) - Remove button - to remove the task assignment from the user
It is also possible to assign multiple or all users to a task at once. To do this, use the button for group assignment Actions (3):

select the checkboxes (4) of all required users
the Actions button appears
click on Assign task

Через кнопку Назначить списком из файла (5). Подробнее тут.

Если на этапе создания Задания - Очное занятия был установлен лимит на количество участников, то при попытке назначить больше участников, чем было указано - система выдаст сообщение такого типа: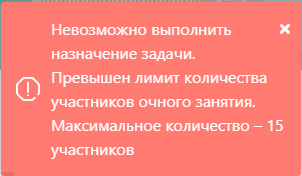 All users assigned to a task will be highlighted with a pink background.
For meetup tasks it is important to assign a Moderator (6).
The moderator (trainer, tutor, instructor ...) is the user responsible for running and evaluating the workshop. They have access to the 'Meetups Report' button with a link to the report and the possibility to view the responses of the other assigned users, to correspond and to give marks.
To assign moderators to users you need to tick the checkboxes in the Moderator column. Only the users assigned to the task can be marked as moderators.
If a meetup task is used in the program, you can identify the Moderator in the same way, only when you assign users to the program task