Assignment to the meetup
To assign users, you need to access the Tasks list (menu: Training - Tasks) and click the Assign button next to the desired task.

After that, the User assigning page opens with a list of all active users of the system.
It is possible to assign Users to Tasks - Meetup:
Individually using the buttons:
(1) - Assign - to assign a user to a task
(2) - Remove - to remove the task assignment from the user
For group assignment - the Action (3) button. The button appears after selecting several or all users using the (4) checkboxes.
The sequence:

select all the necessary users with checkboxes (4);
the "Actions" button appears;
click on the "Assign task" line.

Using the Assign as a list from a file button (5). Find more here.
By automation rule, which is set at the stage of creating task – Meetup. Learn more about the process of assigning users by automation rule here.

All Users assigned to the Task will be highlighted with a colored background (manually assigned - light orange, according to the automation rule - blue).
If at the stage of creating task – Meetup there was a limit on the number of participants, then if you try to assign more participants than specified in the task, the system will display a message: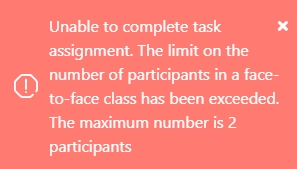 For task-meetups, it is important to assign a Curator (6).
Curator (presenter, trainer, tutor, instructor...) is a user responsible for conducting and evaluating meetups. The "Meetup report" button is available for this user (find more
here
) with the possibility of switching to a report and the ability to set grades.
To assign a Curator, users need to tick the checkboxes in the Curator (6) column. Only users from the list of users assigned to a task can be selected as a curator. One or more curators can be assigned to one task.
If a Meetup is used in the Program, you can define a Curator in the same way, only when assigning users to a Task-Program.