Creating task-Meetups
(1) - Select task Type - Meetup;
(2) - select a published Meetup from the list, mandatory field;
(3) - set the Title for the task, mandatory field;
(4) - add Description for the title, not a mandatory field;
(5) - set the Venue - the address where the meetup will take place, mandatory field;
(6) - Установить лимит на количество участников - чекбокс органичевать количество участников в очном занятии;
Внимание! Задания - Очное занятие с лимитом на количество участников нельзя добавить в Траэктории обучения и Шаблоны индивидуальных планов.
(7) - лимит участников Очного занятия - поле доступно, если предварительно проставлен чекбокс "установить лимит на количество участников. В поле необходимо вписать число, обязательное поле.
(8) - Allow commenting - the checkbox allows you to add comments to the task (find more in Comments)
(9) - select a Tag for the task;
(10)- Включить напоминания - опция для автоматической отправки напоминания про задание Пользователю.
(11) - choose how the task is graded - assigned by the moderator or self-esteem.
(12) - Completion threshold - setting the percentage of successful completion of the task, from 0 to 100, a mandatory field. The user's result on the task will be compared to the Completion threshold to determine whether it is successfully completed or failed.;
(13) - add a Badge of the task (find more in Badges)
(14) - add a Certificate for the task (find more in Certifications)
(15) - set the number of points for the task. The default value is 100. (find more in Points for the task)
(16) - limit the terms of the assignment (find more in Task duration). It is only available to select the calendar period with time selection.
(17) - set the assign mode (find more in Assign mode), select a catalog category (find more in Catalog categories)
(18) - the opportunity to use meetups in personal development plans.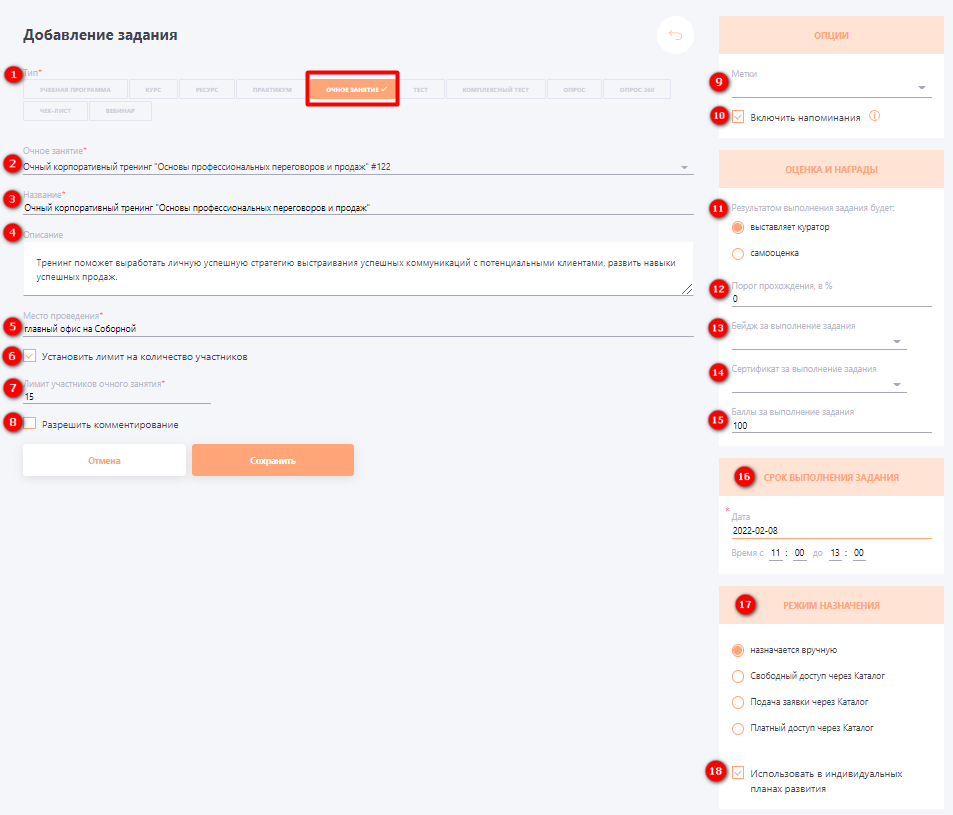 Creation of meetup through the Catalog and automatic creation of the notice about the meetup #
If you select "Free access via Catalog " when creating a task for a meetup in the assignment mode, you can automatically create an ad to inform users.
To do this, it is necessary to:
Create a meetup with free access via Catalog and click on "Save and create notice".

After that the system redirects to the ad creation page.
The ad will automatically pull up data on the class: its title (1), preview (2), venue (3) and date (4), the period from the date of ad creation to the start date of the meetup (6), and a link to register in the Catalog (5).
All that remains is to assign the ad to the required users.