Creating and editing a program
To create a new program, use the Create button.

Creating a new program: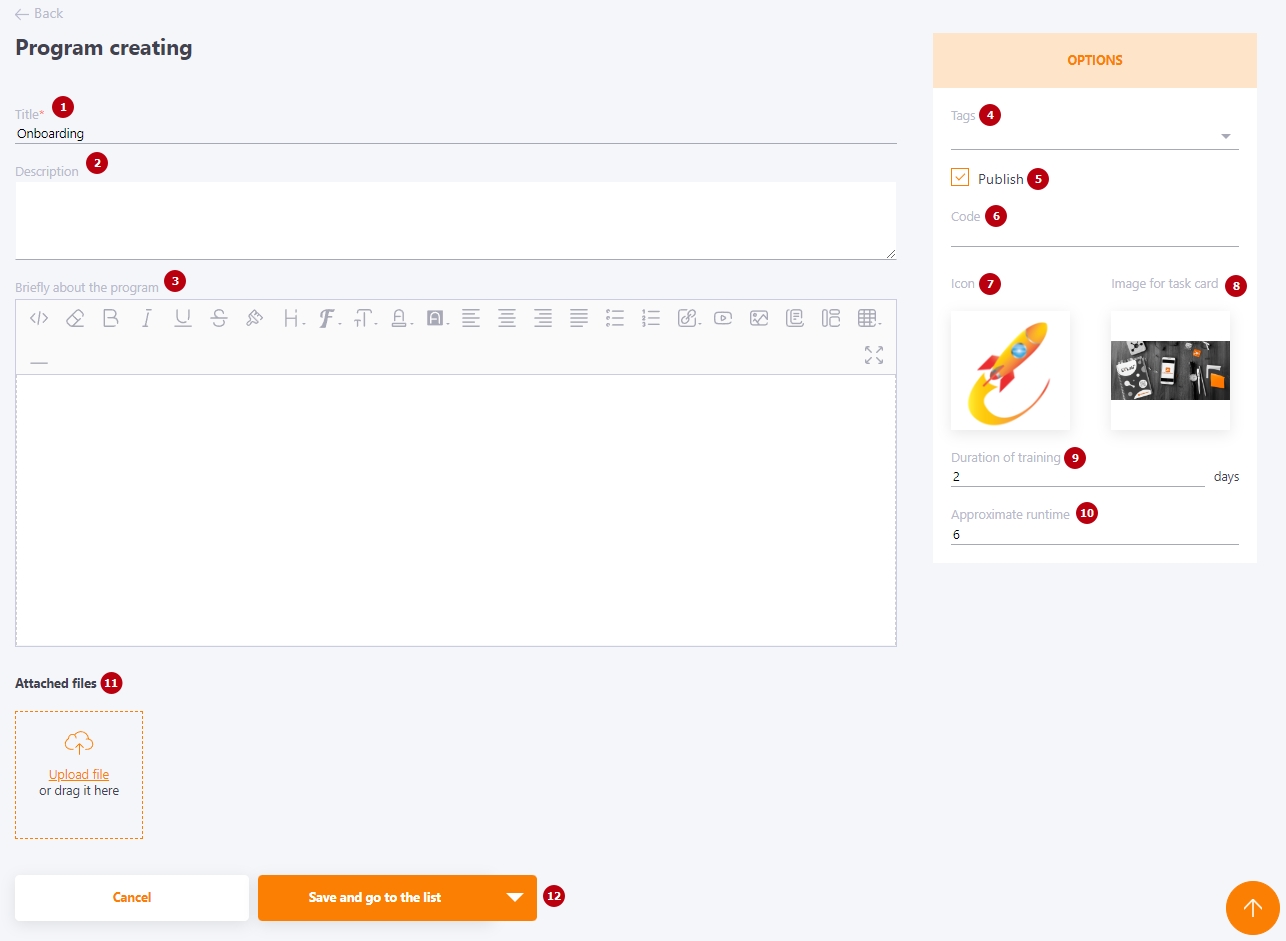 To create a Training Program, it is necessary to specify the following parameters:
(1) - Title - title of the Program;
(2) - Description - brief information about the Program, text without images and formatting;
(3) - Briefly about the program – may contain formatted text, images, tables, hyperlinks and multimedia elements. It will be displayed on the front page of the Training program when you view it. Created using the editor.
(4) - Tags – tags for the program. As with any information resource of the System, you can assign one or more tags.
(5) - Publish – setting up the publication of the program.
(6) - Code - allows using program coding for the purpose of maintaining and comparing the electronic version with the actual ones in the organization (optional attribute).
(7) - Icon - button for uploading icons for the program. Allowed formats: jpg, png, jpeg, gif, svg.
(8) - Image for task card - button for uploading an image for the program task card. Allowed formats: jpg, png, jpeg, gif, svg.
(9) - Duration of training – allows setting the number of days for which the user is expected to complete the entire program.
(10) - Approximate runtime – allows describing the user's workload, for example, in the form of "1 hour per day".
  The parameters Duration of training and Approximate runtime are informational estimates that do not affect the duration of the program.
(11) - Attached files - uploading files to be used in the text editor in the "Briefly about the program(3) via the Select image button

.
Дозволені формати: jpg, png, jpeg, gif, svg.
(12) - Save - button for saving the program.
This is how the title page is displayed when the employee to whom it is assigned is viewing the program: