Programs table
Посмотреть существующий список Программ можно в:
1.Функциональном меню: Управление ресурсами - Программы
2.Меню по процессам: Контент - Программы
The Programs page displays all previously created Programs, as well as tools for creating new ones: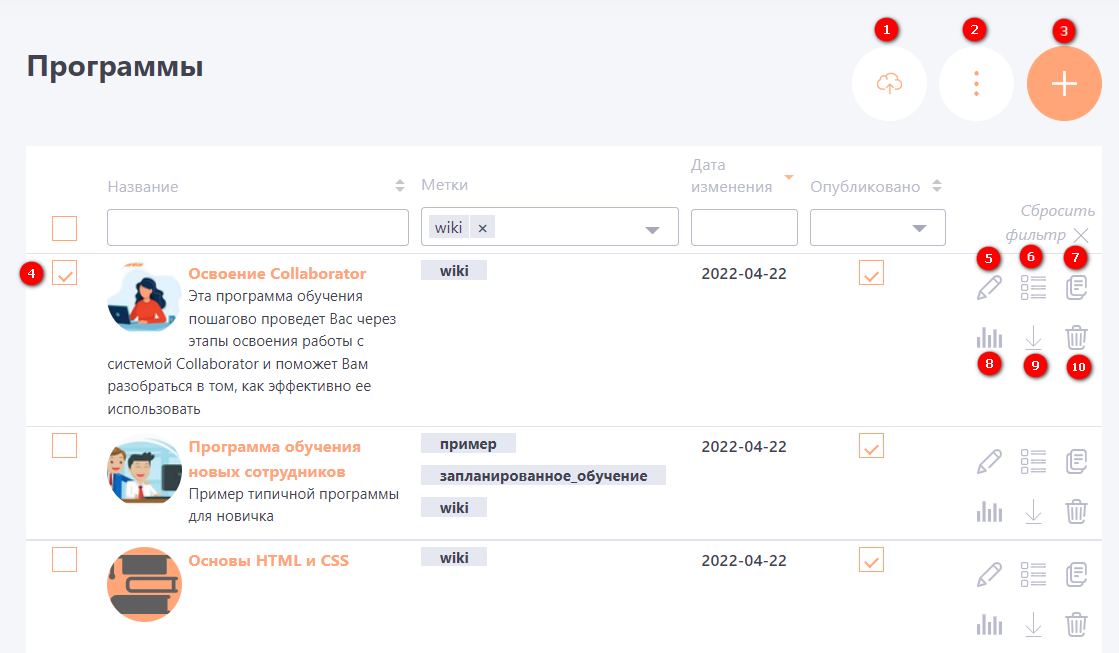 (1) - program ipmort;
(2) - "Action" button for group adding tags, publishing and de-publishing, deleting several programs simultaneously (available only after selecting checkboxes of programs on the left side of the list (4));
(3) - creating program button;
(5) - switch to program editing function;
(6) - switch to program plan creation;
(7) - Дублировать - дублирование программы (дублирование настроек, состава программы, контента, что входит в программу). Копии контента, что входит в состав программы, не создаются. В название дубля программы автоматически добавляется слово "Копия".
(8) - a button for switching to Programs report;
(9) - program expor;
(10) - deleting the program.
  The process of creating a program is simple and similar to creating a Course Plan.
Training on the Program takes place in accordance with the sequence of tasks of the Program Composition. After the User completes the task, the next task is assigned to them, depending on the result.
Предпросмотр Программы #
Для предварительного просмотра Программы нажмите на ее название.

Далее откроется страница с планом Программы: