Import questions from TXT
It is possible to import questions into quizzes from a text file in Collaborator, что дает такие преимущества:
Можно использовать любой стандартный текстовой редактор, например «Блокнот» от Windows;
Вопросы можно создавать без доступа к порталу, когда есть свободное время. А когда появится доступ – можно за пару секунд импортировать их в нужный тест;
После импорта вопросов в тест, их можно изменить с помощью редактора Collaborator – добавить картинки, изменить форматирование шрифтов, тип вопроса или варианты ответов.
Для импорта вопросов в Тесты, you need to prepare a TXT file of the following type:
1. What you must have in order to restore your System access password?
(?) I need to know my login and e-mail
(!) Just my email is enough
(?) It is enough to specify your login in the system

2. Choose the information you need to enter in order to successfully register in the system?
(!) My personal email account
(?) The digital mailing address (email) of my organization or department 
(?) My email password

3. Which of the following information must be specified in your system profile?
(!) Second name
(?) Birthday
(!) Password
(?) Third name

4. Where you can see the news?

The TXT file must be saved in UTF-8 encoding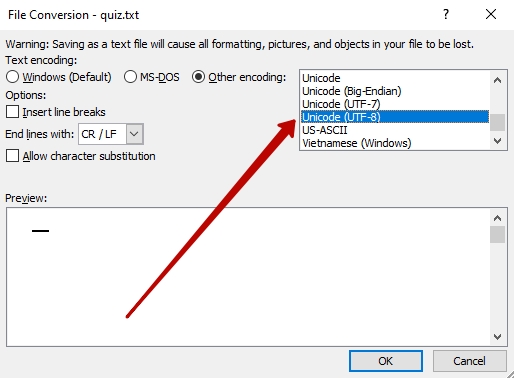 It is possible to import the following question types:
Single;
Multiple;
Free-answer
It depends on the number of answers to the question and the markup symbols displayed next to each answer. The following markings are used to indicate correct or wrong answers:
(!) - correct answer mark
(?) - wrong answer mark
If you have one correct answer, it will be imported into the system as a Single type question (in the example this is the first and second question). If there is more than one correct answer, then it will appear as a Multiple type question (in the example this is the third question).
The questions are separated from each other by an ordinal number with a dot (e.g., 1. 2. 3. etc.)
There is no option to import questions of the "Ordering", "Classification", and "Select on Image" types in this way.
Once a text file with quiz questions has been properly prepared, you can import it into the system.
New questions from the file can be added to an existing quiz or a new quiz can be created. How to create quizzes is described in more detail in the following Wiki article Quiz creating. Quiz parameters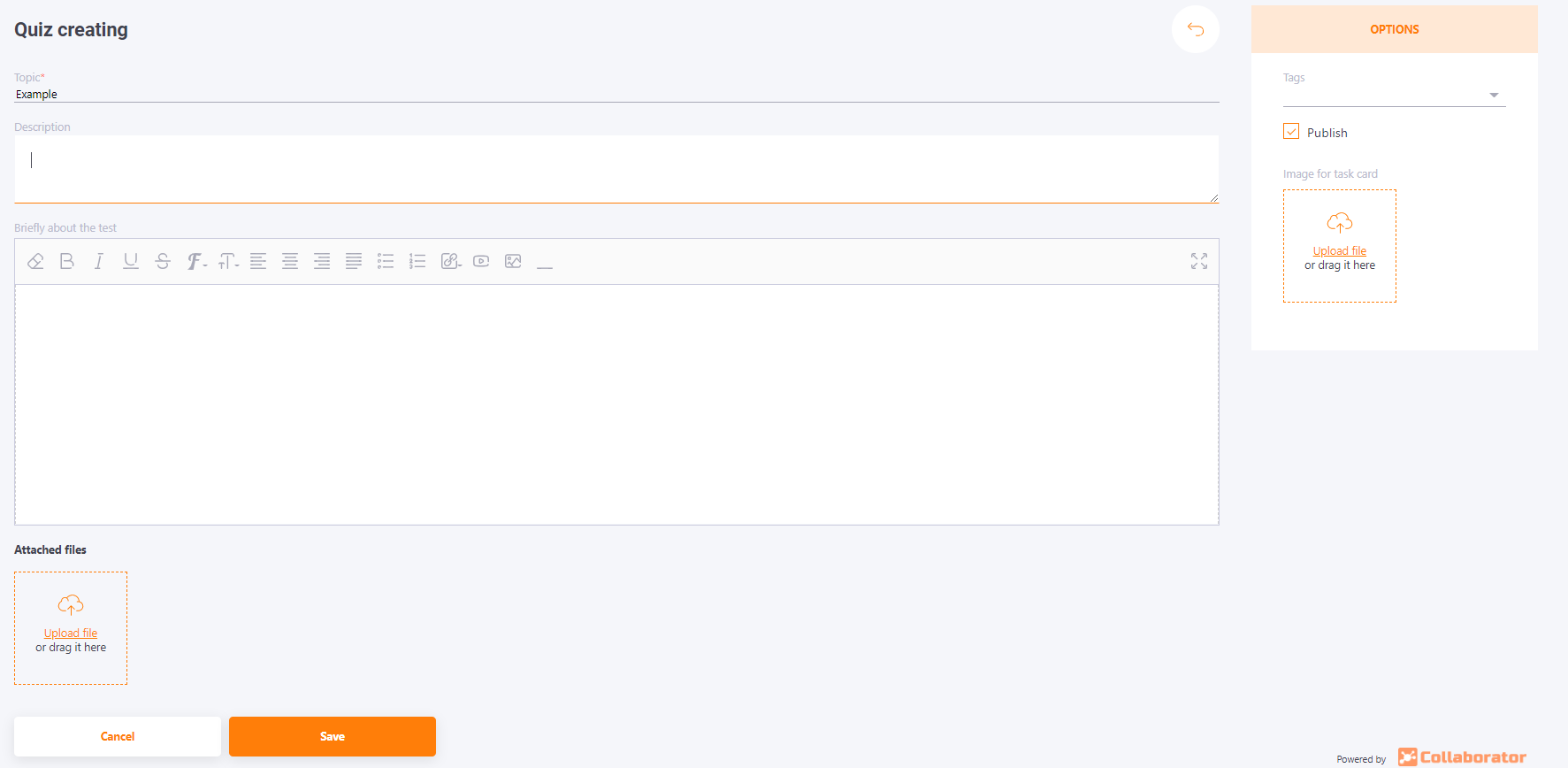 After creating a quiz, you will automatically be taken to the page for adding questions to the quiz. To import questions from a file, use the button Import questions from TXT.
To add questions to an existing quiz, you must similarly open the add questions page in the quiz editor and use the same button. In this case the import will not affect the already created questions, new questions from the file will simply be added to the quiz.

After the file download is complete, a list of questions appears in the quiz.

While viewing one of the imported questions, you can see the same way you fill out the Add/Edit Question page as you would when creating questions manually in the system.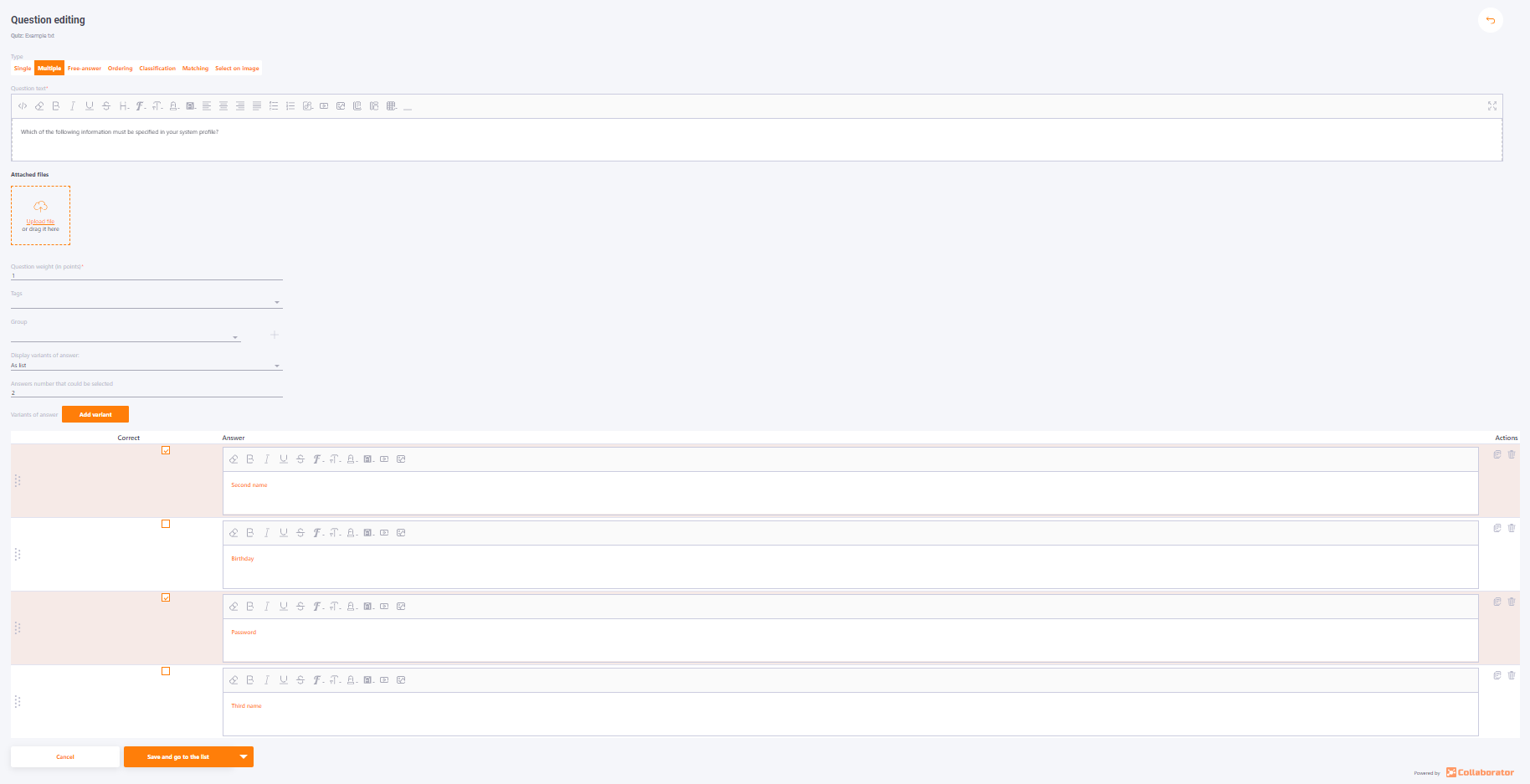 Если при повторном импорте вопросов текст вопроса с TXT файла полностью совпадает с уже существующим вопросом теста, то он будет проигнорирован и не импортируется. Это помогает не создавать дубликаты вопросов при каждом их импорте. При этом появляется сообщение такого вида, где № - это порядковый номер вопроса в TXT файле: