Workshop notifications
Notices for workshops are sent about new comments and about the evaluation of the workshop.
If the user is online, an Email to email and a Push message to the browser are sent at the same time.
If the user is offline, only Email is sent.
If the portal has Telegram integration, a notification is also sent in Telegram to users who have connected a Telegram bot.


There are differences in notices for assigned users and moderators:
---
Assigned user #
If the moderator leaves a comment in the workshop, the user receives an Email to email i Push-message in the browser. In the messages there is a link with the transition to the task.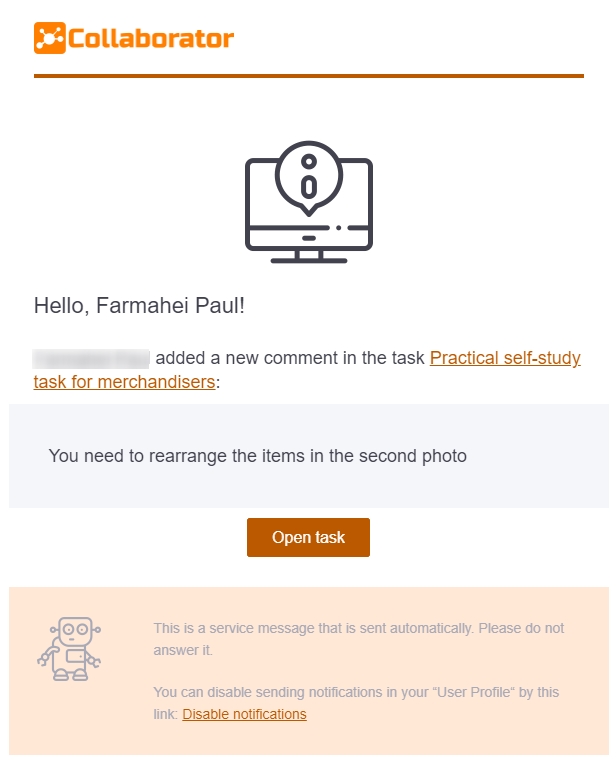 Additionally, users see icons about new comments in My tasks, in the Course plan (for workshops in courses), and in the Program structure (for workshops in the program).
If the user receives a grade for a task from the tutor, they receive a different type of notice. The notice is also sent to the email i Push-message on the browser.
If the tutor sent a comment and a grade at the same time, the user is notified of the workshop grade, but with comments.
Moderator #
For moderators, users are also notified of new comments by email and browser. Clicking on a Push message opens the practice checkout page in the report for that particular user. In Email, a link with the same jump.
The Moderator can see all new comments from the assigned users in the Workshop Report. After viewing the correspondence on the selected user - the numbers are reset.
If more than one moderator is assigned to a task, the list of unread comments is different for each tutor