Creating Learning Resources
Creating a resource from a resource list #
To create a new Resource, go to the list of learning resources and click Add and then the following page will open: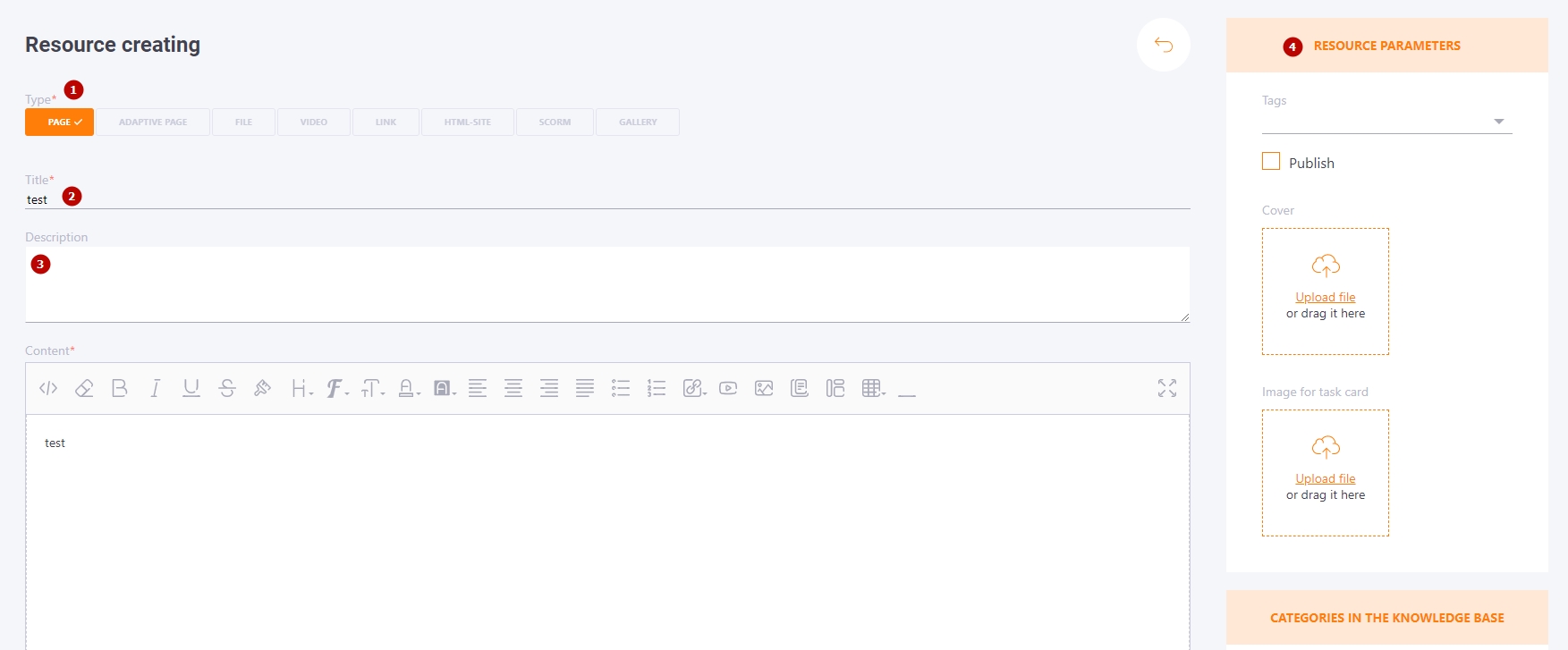 For creating a resource, the following settings are available:
Type (1) – defines the display and behavior of the Resource (Page, File, Video, Link, HTML page, SCORM, Gallery, Markdown page). This parameter is mandatory. To further create a resource, you must first select its type, since the settings are different for different types of resources.

Title (2) – it is recommended to make Resource titles as concise and short as possible. This parameter is mandatory.

Description (3) – a brief description of the Resource to explain its content.

Resource parameters" (4)

Tags – one or more words that allow you to independently mark Resources with short terms in relation to users, courses, tasks, etc.
Publish option – makes the resource available for use in Courses and Tasks. Indicates that the resource is complete and ready to be used.
Cover - you can load an icon image for the resource instead of the standard one (with an image of the resource type).
Image for task card - you can upload an image, which will be displayed in the task card, as well as in the knowledge base.

Upload files (5) - a tool for uploading files. It differs for different types of resources.

Saving button (6) - there are several options for saving resources

Save and go to the list - save and return to the resource list
Save and continue editing - saving already created settings and editing
Save and review - saving and opening the resource for previewing

Categories in the Knowledge Base (7) – allows you to link a Resource to one or more of the available Categories or immediately create a new one.

"Access to Knowledge Base" (8) - setting up access to the resource for groups of users.
Creating a resource from the course plan #
The course plan page has a button for switching to the resource creation page. Such a resource, once saved, will automatically become part of the course.
Find more in Course Plan