Strategic plans
To start working with MBO, go to:
1.Functional Menu - Objectives - Strategic Plan
2.Process menu - Development - Strategic Plan
Once the MBO module is connected, the system automatically creates and publishes the first strategic plan with an example of nested objectives:

(1) - Search objectives in the tree.
(2) - Objective filter by status of execution and by executor. Learn more here: Filter by goals.
(3) - Actions - button with drop-down actions:
Strategic Plan - switch to the Table with the list of created Strategic Plans. Read more here: Strategic plans table.
Total report by objectives - button to unload the total report by objectives in Excel format according to the template uploaded to the system on the page Adding a strategic plan (or when editing it). The action appears only if the Excel file template was loaded, otherwise the button is absent.
Create plan by Organizational Structure - the button appears if a objective template file has been uploaded to the system for employees. Read more here: Adding a strategic plan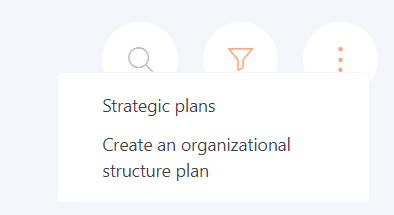 (4) - Objectives Tree-Functional for creating and editing the Objective Tree is described here here.
If there are several published Strategic Plans on the portal, you will be able to select the current plan to work with it. (Read more about configuring the publication here: Adding a strategic plan.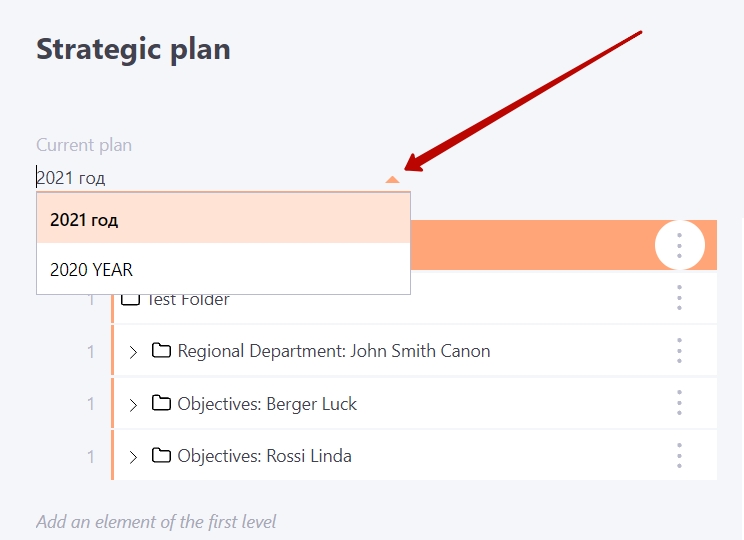 ---
Read more about working with strategic plans in the following articles:
Roles and permissions in MBO
Strategic plans table
Adding a strategic plan
Work with the goal tree
Adding goals by template
Filter by goals
MBO – Notifications